Holy Cross Germantown Hospital
location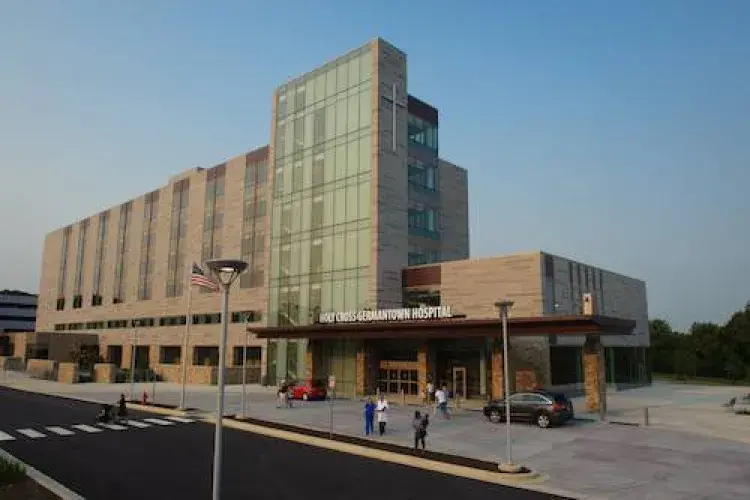 Hospital
Full scope of medical services, including 15-bed Intensive Care Unit and two 30-bed units for all non-intensive care patients equipped with advanced patient monitoring capabilities
A behavioral health unit is available for psychiatric care
All patient rooms are private and allow 24/7 visiting hours
The hospital provides a broad range of specialties, including surgery
A full-service radiology department is located next to the ED for prompt patient assessment, including MRI, CT, ultrasound, nuclear medicine, diagnostic and interventional radiology, EKG and echocardiogram
Comprehensive maternity services include labor and delivery rooms, cesarean surgical suites, private postpartum rooms and an eight-bed neonatal care unit
community
The city of Germantown, Maryland straddles Interstate 270 about 26 miles north of Washington, D.C. Germantown is one of the county's fastest-growing communities, with an extensive number of new homes, communities, schools and commercial centers. Whether you are into hiking, camping, gold, visiting galleries, or attending a performance at a theatre, you'll find it all, and more in Montgomery County. With more than 33,000 acres of parkland in 345 parks, 60 galleries, 22 theaters, 50 historical venues, visitors and residents enjoy superb amenities throughout the year. Germantown's location gives residents quick and easy access to the historic sites of Washington, D.C., and the urban nightlife of Baltimore. Its location is ideal for employment opportunities as well, as residents can find work in one of the nearby cities while residing in the suburban locale of Germantown, where the cost of living is significantly lower. The convenient accessibility and wide array of amenities make Germantown a very desirable place to call home.
Emergency Department
ED Volume: 18,000
14–bed ED, including two specialized rooms for behavioral needs
8-bed Observation Unit
Full-service radiology department located next to the ED
Close proximity to all radiology services, with bedside ultrasound in the main ED
ED Point of Care testing
Flexible documentation system using templates and voice recognition
Epic EMR
Critical Care
ICU Volume: 1
15 bed ICU/IMC
24-7 Critical Care physician coverage
Experienced ICU Nursing Staff with seasoned nurse leader
Hospitalist Service
Average Daily Encounters: 77
8 physician/APP provider hospitalist team
Team is supported by IAC RNs to facilitate operations
24-hour intensivists onsite
Team approach model with Hospitalist, Critical Care and Emergency Department under one IAC Director
CAREERS AVAILABLE AT THIS LOCATION:
CONTACT A RECRUITER
Talk to a recruiter about positions staffed by USACS. Let our experienced team lead you through the career maze of competitive salaries, signing bonuses, retirement plans, insurance and medical malpractice coverage.