Chris Ziebell

MD, FACEP

Director of Behavioral Health Innovation & Workplace Safety Committee Chair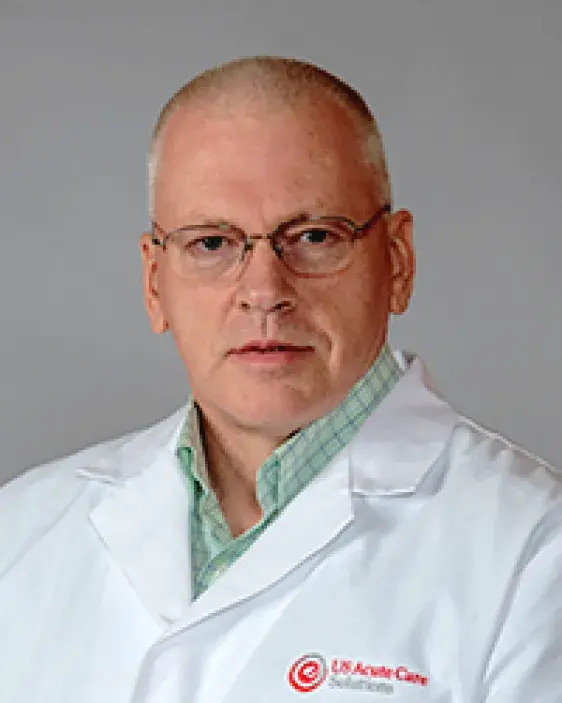 Medical School: University of Minnesota
Residency: William Beaumont Hospital
Dr. Chris Ziebell is the director of behavioral health innovation for US Acute Care Solutions. He took on this role after serving as the Emergency Department Medical Director at Dell Seton Medical Center at the University of Texas at Austin. He led the ED at Central Texas' only Level I adult trauma center (formerly known as University Medical Center Brackenridge) from 2007-2021. He also currently serves as the Chair of USACS' Workplace Safety Committee.
Since moving to Austin in 1998, Dr. Ziebell has served in leadership roles as Chief of Medical Staff and Emergency Department Medical Director at various hospitals throughout the Seton Healthcare Family. He has served as a member and vice-chair of the Seton Board of Trustees and as chairman of the Quality and Patient Safety Committee. He has also served as a member of the Austin/Travis County EMS Advisory Board and is a former chairman of the EMS Steering Committee of the Travis County Medical Society.
In addition to his clinical roles, Dr. Ziebell has served as executive director of the Seton Event Medicine Institute, and Medical Director of the SETON Medical Center at Circuit of the Americas. He served as President and Executive Director for Hospital Physicians in Clinical Research (HPCR), a subsidiary of USACS founding partner Emergency Service Partners. He has been an investigator for several federal research projects and is a frequent lecturer on matters of emergency medicine and trauma care. He is an Assistant Professor at the Dell Medical School at the University of Texas, Austin where he served as Division Chief of Emergency Medicine. He has been an adjunct professor for the University of Texas Medical Branch and has also taught at Ball State University and Butler University. Dr. Ziebell is currently Chairman of the USACS Southwest Clinical Governance Board; he previously served on the Board of Managers of Emergency Service Partners, L.P., from the partnership's inception through 2016.
A graduate of Gustavus Adolphus College, Dr. Ziebell earned his Medical Degree from the University of Minnesota and completed his Emergency Medicine Residency at William Beaumont Hospital in Royal Oak, Michigan.
Dr. Ziebell's honors include the Thomas Coopwood Award (2020), the Austin Business Journal HealthCare Heroes Award (2011), the Emergency Service Partners Iny (Innovation) Award (2008), and the Texas Medical Foundation HealthCare Quality Improvement Award (2006, 2007).
Want
Chris Ziebell

as a speaker at your next event?

Fill out this form with more information and we get back to you with more information.