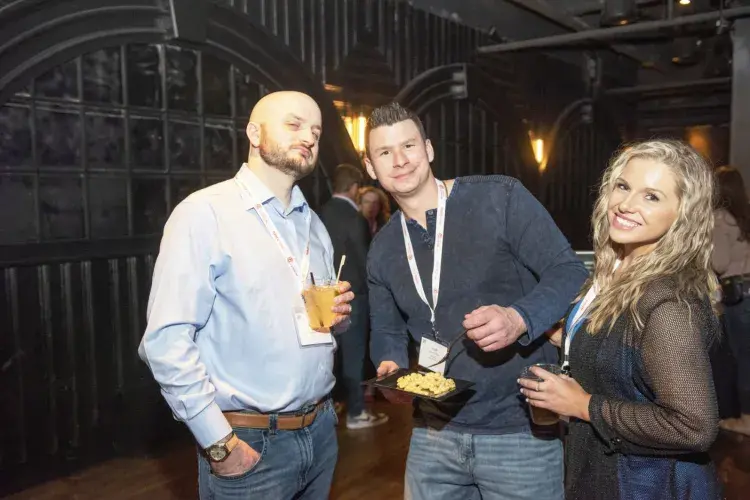 INDUSTRY-LEADING RETIREMENT BENEFITS FOR ADVANCED PRACTICE PROVIDERS
At USACS, we don't just say that we care about your long-term financial success – we demonstrate our commitment by offering a company-funded 10% retirement contribution. This is a 10% addition to your advanced practice provider (APP) salary and makes a huge difference in retirement savings.
Contact a Recruiter
When you compare the retirement benefits of working as an APP for USACS vs the benefits offered by other companies, there is simply no comparison. Our 10% retirement contribution stands out in a crowd and is just one of the amazing benefits we offer.
Working for USACS can secure your future.
Image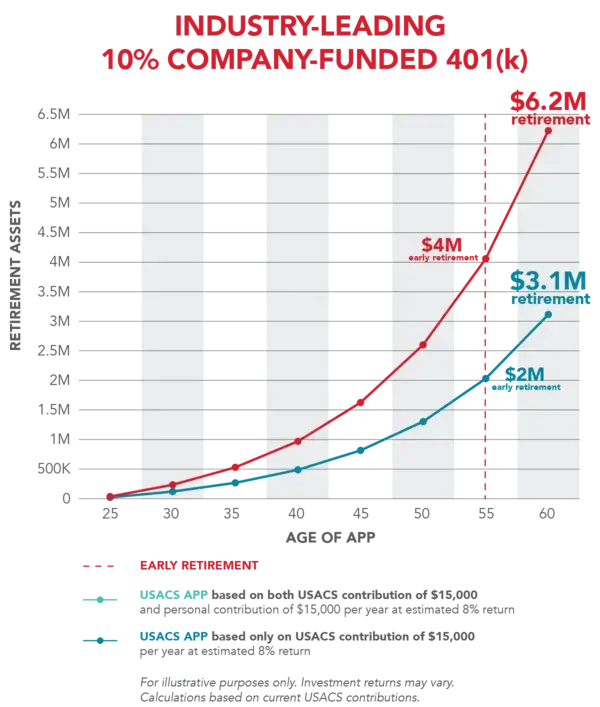 FUND YOUR RETIREMENT FASTER
Let's look at how the USACS' retirement plan benefits advanced practice providers. The chart below looks at these example scenarios:
Retirement savings with USACS' 10% company-funded retirement plan contribution only
Retirement savings with USACS' 10% company-funded retirement plan and maximum personal contribution by APP
As the chart demonstrates, even if you retire early, you can benefit from a significant boost in retirement savings. You can secure your financial future – and give yourself the option to retire early – with USACS' industry-leading retirement contribution. Even if you contribute nothing to your retirement, USACS' 10% percent contribution really adds up fast. That's the benefit of being part of USACS.
MAKE A GREAT DECISION NOW … AND FOR YOUR FUTURE
APPs are valued at USACS. We rely on APP teammates for their contributions to patient care and everything they offer as members of our diverse, tight-knit team. All of us, as medical professionals, want to achieve work/life balance and improved patient outcomes. Our care is always patient-centered. The values we hold bring us together.
Our host of APP benefits include a legendary medical malpractice insurance offering, paid parental leave and clinical and leadership opportunities – just to name a few.
Our APPs say working for USACS is a great decision for their careers. And our 10% funded-company retirement is a great decision for your future.
MORE INDUSTRY-LEADING APP BENEFITS
Our retirement plan is just a start. Our APPs are surrounded by a benefit offering that helps them succeed. Continue reading to learn more about our advanced practice provider benefits.
Best Medical Malpractice
Knowing someone has your back makes a huge difference. At USACS, we understand how important that is to our APPs. Our medical malpractice insurance, Litigation Stress Support Team and Risk Retention Group are legendary.

LEARN MORE ABOUT RISK MANAGEMENT
100% Paid Parental Leave
Our parental leave policy offers benefits to birth mothers and fathers, adoptive parents and surrogate parents, as well as partners and spouses. We offer paid time off, up to eight weeks at 100% of your salary, plus an additional four weeks at 50%.
Leadership & Clinical Training
As owners, we're empowered to make education a top priority. To help our APPs stay up to date on current medical trends and best practices, we offer opportunities for continued learning and professional development.
CONTACT A RECRUITER
Talk to a recruiter about positions staffed by USACS. Let our experienced team lead you through the career maze of competitive salaries, signing bonuses, retirement plans, insurance and medical malpractice coverage.