Dell Children's Medical Center of Central Texas
location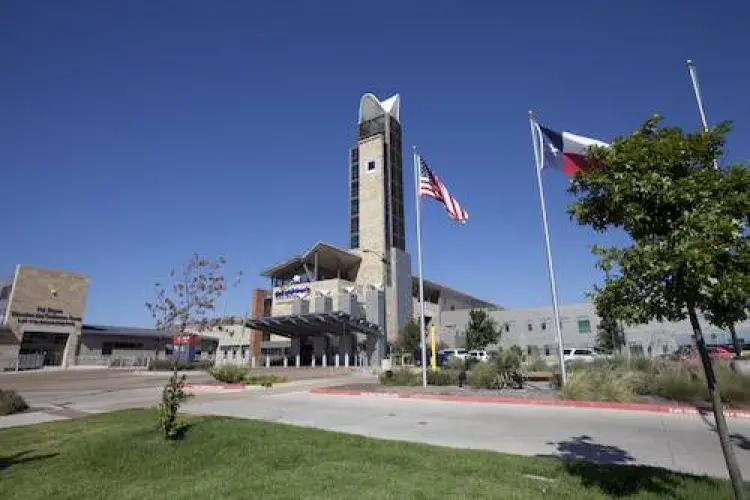 Hospital
Member of Ascension Health, the largest nonprofit health system in the U.S.
$200 million, 480,000-sq. ft. facility
248 inpatient beds
12-suite surgery center
First hospital in the world to achieve Platinum Status under the Leadership in Energy & Environmental Design (LEED) program sponsored by the U.S. Green Building Council
Magnet designation (American Nurses Credentialing Center)
Level IV NICU
Level IV Epilepsy Center
Intense focus on expanding comprehensive congenital heart disease and pediatric cardiology services, including heart transplantation
Comprehensive Fetal Care Center, complete with a specialized delivery unit, allowing mothers to deliver and recover in the same hospital where their newborn will receive treatment and care for their complex fetal or congenital conditions
A fourth bed tower with 72 beds to be completed in November 2022
Groundbreaking for Dell Children's Medical Center North occurred May 2021; expected completion April 2023

Built on 34 acres of land
187,000+ sq. ft.
Four-story hospital with:

36 inpatient beds
18 ED beds
Level III trauma services
Four operating rooms
Endoscopy and procedure rooms
Sleep labs
Shelled space for future growth
Affiliated with The UT Austin Dell Medical School, also a member of Ascension Health
Special delivery unit for mothers of infants who will need immediate surgery after birth
community
Austin is the capital of Texas, but it is better known to many as the "Live Music Capital of the World." With vibrant entertainment and culture, inspiring cuisine and stunning outdoor settings, it's no wonder that Austin is one of the fastest-growing metropolitan regions in the nation. Nature trails, lakes, parks, and wilderness preserves offer exceptional recreational opportunities. The Austin area's high-tech industry blends seamlessly with popular events such as the Austin City Limits Music Festival, SXSW, and the Formula One United States Grand Prix. The University of Texas, one of the largest universities in the nation, offers world-class arts and sporting events year-round. We are most recently home to Austin FC (an MLS expansion team).
Pediatric Emergency Department
ED Volume: 63,000
Provides the highest level of pediatric emergency medicine care as the only pediatric level 1 trauma center pediatric in a 46-county area
45 ED beds
16% admission rate
8- and 9-hour shifts with 56-81 hours of PEM physician coverage and 8- and 12-hour shifts totaling 20-28 hours of pediatrician/APP coverage per day
25 pediatric emergency medicine attendings, 4 pediatricians and 7 APPs
Physician Qualifications: BC/BE in Pediatric Emergency Medicine
APP Qualifications: BC PA or PNP-Acute Care/FNP with 2 years pediatric ED/CC/UC experience
In addition to working clinically in the emergency department, physicians serve as faculty in the Department of Pediatrics at The University of Texas at Austin Dell Medical School
Cerner/CPOE and PowerNote Documentation
RN training (PALS, ACLS, TNCC, Magnet, Pediatric SANE, etc.)
Robust and successful pediatric emergency medicine fellowship with 12-13 fellows at a time
Attendings oversee residents from pediatric, emergency medicine, family medicine and transitional year training programs
Faculty strongly supported to pursue academic, professional, quality improvement, advocacy, research, etc.
CAREERS AVAILABLE AT THIS LOCATION:
CONTACT A RECRUITER
Talk to a recruiter about positions staffed by USACS. Let our experienced team lead you through the career maze of competitive salaries, signing bonuses, retirement plans, insurance and medical malpractice coverage.