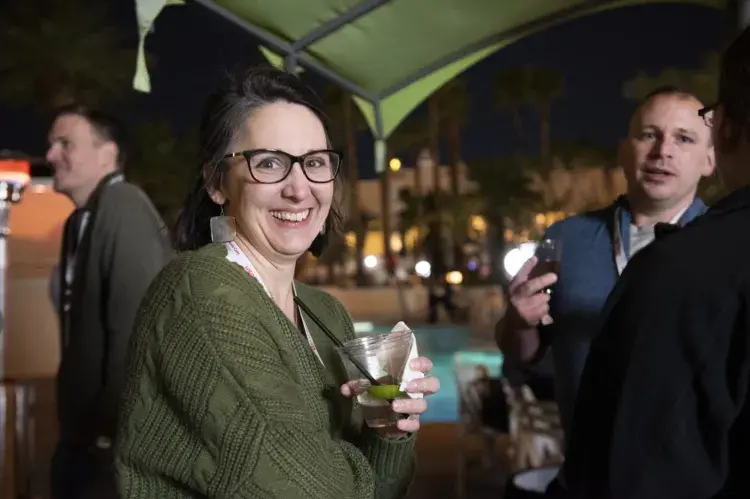 INDUSTRY-LEADING PHYSICIAN RETIREMENT PLAN BENEFITS
At USACS, we truly value physician success - during your career and in retirement. That's why we offer amazing benefits like our industry-leading 401(k) with a 10% company-funded physician retirement plan.
Contact a Recruiter
What if you could guarantee more in your physician retirement plan, even if you contributed nothing? That sounds revolutionary. It is. USACS offers a retirement package that far exceeds the usual matching company contribution.
We help physicians secure their financial future.
Image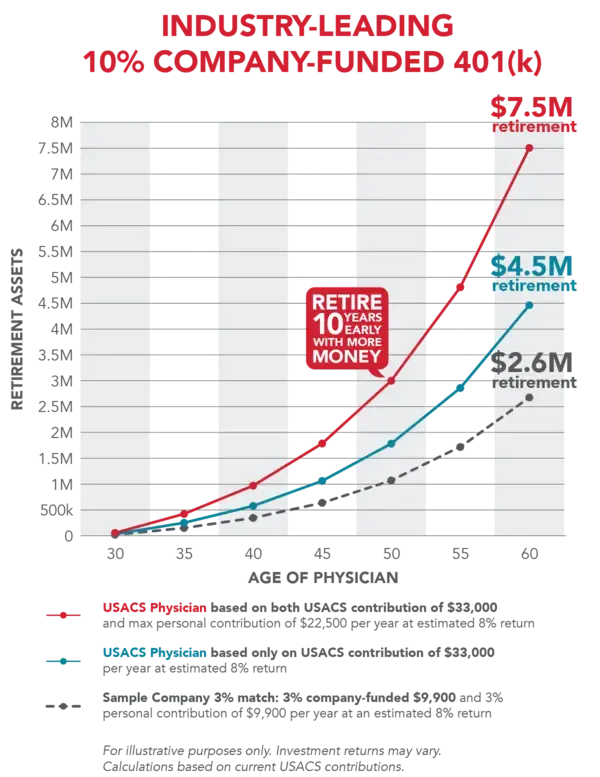 RETHINK YOUR RETIREMENT POTENTIAL
As a physician-owned company, we think differently, and we're proud of it. We're in this together, working toward success in all areas of our lives. What does that mean to our team? It means a commitment to improving work/life satisfaction and care that's patient-driven, not profit driven. We don't just meet expectations for ensuring physician success – we exceed them. That includes our retirement plan.
Even if you make no retirement contributions, you'll come out ahead. We offer a 10% company-funded retirement plan. (Yes, you read that right – we fund all our physicians' retirement plans with a 10% contribution, regardless of individual contribution.)
This is a game-changer when it comes to retirement wealth.
PHYSICIAN RETIREMENT BENEFITS FROM USACS VS A TYPICAL COMPANY PLAN
Let's look at how the USACS' retirement plan benefits physicians. The chart below looks at three example scenarios:
Retirement savings with physician 3% contribution and typical company-matched 3% contribution
Retirement savings with USACS' 10% company-funded retirement plan (no contribution from the physician)
Retirement savings with maximum personal contribution by physician and USACS' 10% contribution
The difference is clear – the monetary benefit could be measured in millions of dollars. With USACS you get a retirement plan that's unrivaled, along with many other benefits that far exceed what other companies offer.
USACS: A GREAT DECISION NOW AND IN YOUR FUTURE
Physicians join USACS because they see why ownership matters. With our physician-owned model, everyone is completely invested in success. Our retirement is just one demonstration of this idea. Our industry-leading 10% company-funded retirement can make a huge difference in your retirement savings. Our work model can make a difference in your job satisfaction. We work together, living out our values, as we strive to be national leaders in integrated acute care.
Learn to Manage Your Wealth
---
WEALTH MANAGEMENT MATTERS
We want all our physicians to turn earnings into wealth for long-term financial stability and success. You'll find videos offering financial wisdom and information regarding thought-provoking financial topics to help you consider your options.
MORE INDUSTRY-LEADING BENEFITS


Our physician retirement benefits are just a start. We surround our physicians with an array of top-notch benefits.
CONTACT A RECRUITER


Talk to a recruiter about positions staffed by USACS. Let our experienced team lead you through the career maze of competitive salaries, signing bonuses, retirement plans, insurance and medical malpractice coverage